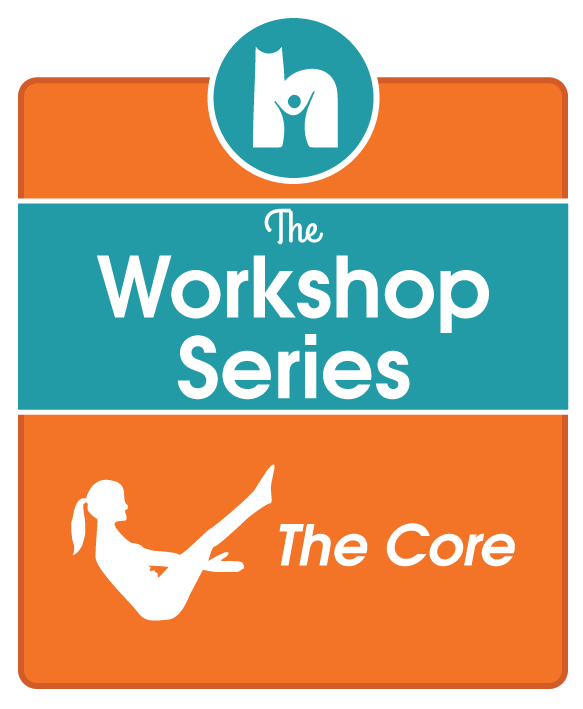 The Workshop Series: Core
A "Deep Dive" Comprehensive Healthy Core Course
If you want to truly transform the health of your core, you can't simply do a "core workout." You have to understand the how and the why!In this course you will learn what continues a healthy core and how to get one, including a discussion of core injuries such as diastasis recti or hernia. You will also have a plan for progression from beginner to advanced.
What is included?
TWO Full-Length Core Workshops: In each class we will move our bodies while we learn the fundamentals of core health.  (Value $150)

15-Daily movement challenge classes: Most days this will be a short 2-3 minute exercise you can do multiple times throughout the day. Periodically, it will be a 10 – 20 minute focused practice. (Value $100)

Healthy Core Plan (Downloadable PDF): This printable guide, demonstrating three levels of core exercises, is yours to keep forever! (Value $50)

Access to a private Facebook community: Here you will be able to get group support and encouragement. (Value $50)
All of this content is bundled together for a savings of over 70%! That's $350 of content for just $97!
What People Are Saying
"I am blown away with the changes in my body and the realizations I'm having about my alignment, muscle habits and the difference of minor adjustments." ~Alissa M., Creative with Kids
"Jen has been a gentle guide in helping me unlock the secret to recovering from a body trauma. She taught me how to accept my own feelings without judging them, to just feel them for what they are without feeling like I must immediately rectify any negative feelings." ~Megan Tietz, SortaCrunchy
Doing small "breaks" of yoga throughout the day is so much more doable for me than an hour, and I love the point made about focusing on it throughout the day as opposed to doing yoga for an hour then spending the rest of the day undoing all that was done! I'm so excited to make this a part of my life! ~ Kathryn K.
"I highly recommended this program. I love your gentle approach and I learned so much about what my body is supposed to be doing and so many things that my body is already "asking for" regularly. And I wasn't even faithful at doing the challenge five times a day! I love that I have lifetime access and can go through it again and use the other videos on the website. That makes the program so worth it." ~Miracle Q.
"I especially love the workbooks. It is so nice to refer back to…to fill in the blanks and work through the pages and then to take a week at a time and go through the pages again. Thanks for always finding ways to make our lives better….together." ~Glenda S.
I am impressed with the instruction, the website, and emails. Jennifer's voice is encouraging and soothing. The Mini Yoga Break: Increase Pelvis Mobility is amazing. I have never seen this move, and it helped my chronic pain the first time I did it. ~ Alison H.
Thank you, Jennifer, for the wonderful classes! As a fitness nerd, instructor and trainer, I've tried a lot of different yoga programs. Yours if by far the best. Your instruction and cueing is awesome. Thank you for keeping the tone of your sessions intentional, but not religious. ~ Kate W.
I am amazed. I don't think I've ever experienced such gracious permission to relax in a practice before – it brought up a big emotional release. Thank you. ~ Tiffany H.
I just did one of the mini yoga breaks (Breath of Joy) and feel so revitalized. Such a blessing at 33 weeks pregnant…I'm now ready to go play outside with my little guy. ~ Michele L.
"Stay-at-Home Yoga is exactly the thing I needed to bust my excuses for not committing to a yoga practice. I'm continually amazed by how much better my body and mind feels after I practice. Jen's the perfect teacher to help you stop making excuses and grant yourself permission to slow down in a world that glorifies being busy."
~Nicole, Owner NCO Style
Frequently Asked Questions
What level of experience is this Workshop for? 
All levels! I teach poses/exercises progressively, first sharing the most basic alignment information. Then, I add layers of complexity for more experienced students. However, this is a "deep dive" course, and is only intended for students looking for a deeper understanding of core health.
How long will I have access to the course content?
This course comes with lifetime access. If for some reason the course is planned to be taken down, you will be given generous notice and a chance to download all the materials beforehand.
What happens after I register?
Within 24-hours of registration, you will receive a welcome email with all of your workshop links and information. (An opt-in email will be sent to the address you registered with. Be sure to click the confirmation link, so you receive all of the workshop access information!)
I am already a premium Healthy Moving Member, is this workshop included in my membership?
The workshop series courses are not part of the premium Healthy Moving Membership. However, 0n the registration page, enter your current Healthy Moving username and password, so you can access all of your content under one username.
How does the 30-Day Money-Back Guarantee work?
If you feel you have not received any benefit from your participation in the program within 30-days of registering, you are welcome to contact billing@healthymoving.com for a full refund. (Of course, this would mean your access to all program content will be discontinued.)
There is another human growing in my belly right now. Do you offer prenatal modifications?
Congratulations! I sure do. In fact, you'll notice I was pregnant for the filming of many of the Healthy Moving classes!
What are the technical requirements to participate?
You will need a high-speed internet connection to stream the videos. A Facebook account will also allow you the most interaction with the program, but is not required.
Do I need any props/equipment?
You won't need any props for most movement challenges in this program. You will want a sticky yoga mat for the workshop courses, but you can be creative with the other props. (A long scarf can be used as a yoga strap. Couch cushions and rolled sleeping bags make good bolsters.)
Tell me about your certifications, Jen. Are you the real deal?
I am a Restorative Exercise Specialist™-Certified Personal Trainer (RES™-CPT), a Registered Yoga Teacher (eRYT-500) with Yoga Alliance and a member of the International Association of Yoga Therapists. I'm also a certified Restorative Yoga Teacher, and I have completed prenatal yoga training.
Do I have to have a PayPal account to join the program?
Nope! Simply select the link that says "No PayPal account? Pay using your credit or debit card" under the PayPal login section. (Just a heads up, for verification purposes, it may take a few hours to activate your Stay-at-Home Yoga Membership if you are not using your PayPal account.)