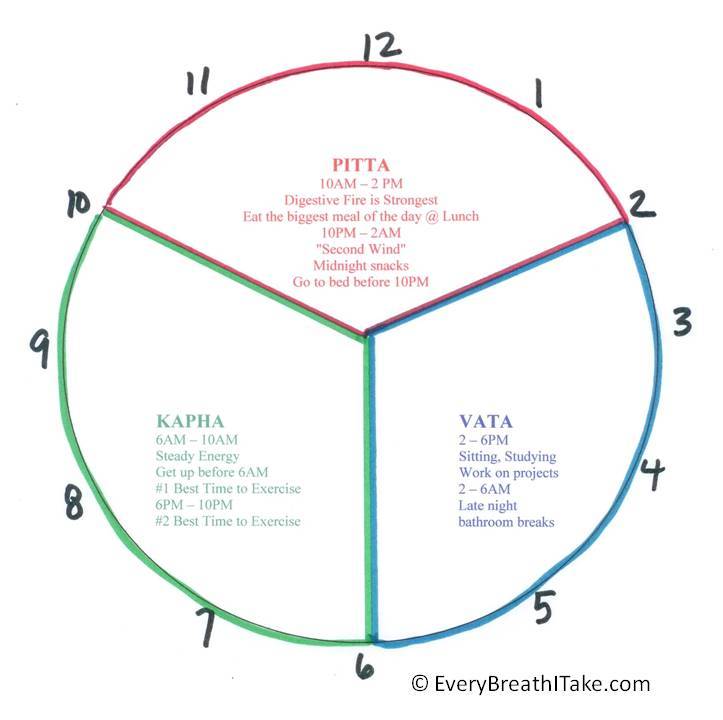 While I was doing my yoga teacher training, I was introduced to Ayurveda, a system of traditional medicine from India. As I listened to the speaker introduce the concept of "doshas," I was skeptical. It sounded more like a sister science to astrology than to yoga.
But, I was committed to listening with an open mind. And, I'm so glad I did! I soon realized, like Myers-Briggs, Ayurveda offers a framework for understanding more about myself and those around me.
Since that day, I've taken several Ayurveda courses and read more than a few books. While I am in no way an Ayurvedic expert, I do believe we can all learn from some of this science's foundational teachings.
One of the most basic Ayurvedic principles is that of the three doshas – Vata, Pitta and Kapha. While this is a rather complex subject, for our purposes, I'd like to focus on the doshas as energies that impact our health and well-being.
According to Ayurveda, each of us has a primary dosha. (You can find yours in just a few minutes by doing an internet search for "dosha test.") But, the doshas also manifest themselves in times of the day and seasons of the year.
Vata dosha is dominant in the fall and winter and is the least stable of all the energies. Summer is the season of Pitta – the dosha in the middle of the stability scale. And, Kapha is the dosha of spring; it is the most stable of the three energies.
Last fall, I addressed how an understanding of the Vata dosha can inform our fall and wintertime yoga practice. Next week, I'll be thinking spring as I talk about yoga for the Kapha season. And, you can read more about a summertime yoga practice for the Pitta season here.
But, I thought it would be helpful to look at what Ayurveda says about how these energies manifest themselves in times of the day. This information has the power to drastically improve everything from your productivity to your digestion. It can help you stick to your fitness goals and get a better night's sleep.
Kapha (6 – 10am and 6 – 10pm)
This dosha is the most stable of all three energies. For better or worse, our deepest habits are established during the Kapha hours of the day.
If you can't seem to escape lure of the snooze button, the sluggish Kapha energy may be to blame. Try getting up before 6am. (And, read the Pitta section next to see why you should go to be before 10pm).
If you do your exercise routine during the Kapha hours, you have the best chance of developing an enduring habit. The morning Kapha hours are ideal, with the evening hours being the next best alternative.
Pitta (10am – 2pm and 10pm – 2am)
The Pitta energy aids our ability to concentrate. We are most focused and alert during the Pitta times of the day.
This energy is responsible for the infamous "second wind" we experience during late-night hours. Therefore, it's best to be asleep before 10pm.
This dosha also governs digestion and appetite. So, Ayurvedic wisdom teaches that it is best to eat your biggest meal of the day at lunch. The Pitta energy is also to blame for the compulsion for midnight snacks – another good reason to be asleep before 10pm.
Vata (2 – 6pm and 2 – 6am)
When this dosha, the least stable of the three energies, is predominate it is difficult to establish routine. We are prone to changeable moods and impulsiveness (good reason to avoid those late-night infomercials!).
However, this energy promotes creativity and imagination. We are also better able to learn new things during the Vata times of day. So this is the perfect time of day to study or work on creative projects.
Interestingly enough, since this dosha governs elimination, it is often to blame for those middle-of-the-night potty breaks.
Do you have experience with Ayurveda? Have you tried to incorporate changes to your routine based on dosha clock? I'd love to hear about it!