Do I Really Need Yoga Props? (A Bolster Giveaway)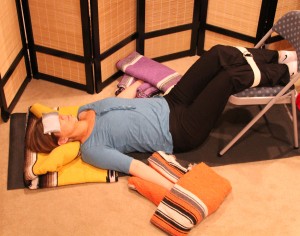 For someone on a mission to make yoga accessible, I sure do use a lot of props! I know this can feel like a barrier, but I promise I have really good reasons for using them.
Sometimes I reach for props to make a challenging pose more accessible. Other times, I use a prop to more deeply explore a yoga pose. And, I regularly use them to facilitate the process of relaxation. Yoga props play a huge role in making this practice  accessible and therapeutic.
People ready to begin a home practice often email me wondering what props they need, and what they have around the house that might work as a prop. So, I'm going to dish about all things props today. And, I'm thrilled to have a giveaway and discount for the Stay-at-Home Yoga Community (that includes YOU!) from one of my favorite yoga companies, Hugger Mugger.
Props 101
A nonskid mat is the first prop that you'll need for your yoga home practice. You can choose a mat for its design, thickness (generally either 1/8 or 1/4 inch) or length (standard length is 68 – 72 inches but if you're tall you may want to buy a longer mat). It's really a matter of personal preference. The mat I use in my home practice (and all the videos at Stay-at-Home Yoga) is the Tapas® Performance Yoga Mat.
It is also useful to have at least two – four firm blankets. You can purchase wool or Mexican blankets specifically for your yoga practice, or use any firm blankets you have around the house. I start with my blankets folded to measure about 1 inch x 21 inches x 28 inches (the "standard fold"), then I roll and refold them as needed throughout my practice.
Bolsters are wonderful for supporting the body during your practice. You can use firm pillows or couch cushions in place of a traditional yoga bolster in some poses, but I highly recommend saving up for one specifically made for yoga or making one yourself (there are lots of tutorials like this one on the web).  A standard rectangular bolster is prop you will not regret adding to your collection. (Don't miss the bolster giveaway at the end of this post!)
Two blocks are also useful for your home practice. You can be creative about substituting other items around your house for a traditional block – a thick book or small stool often provide the support needed. I prefer 3 or 4 inch foam blocks over wooden blocks.
You will also want a strap or belt. You can use any belt or tie you have at home. If you are going to buy a yoga strap, I recommend a d-ring strap.
A few bath towels, a small, thin pillow, an eye cover, and a chair that is not on wheels will round out a wonderful yoga prop collection.
Giveaway and Discount!
Hugger Mugger is my go-to shop for yoga props. I've used their props in my yoga studio and home practice for years. And guess what?! One of you is going to win one of their wonderful yoga bolsters! Enter for your chance to win using the Rafflecopter below (RSS readers, you'll need to click on over to the site to see it.)
One of you will win a bolster, but Hugger Mugger has something for everyone! You can get 15% off your entire Hugger Mugger purchase through September 24, 2013, when you enter the discount code "STAYATHOME15" at checkout! (Sorry, this is not valid for wholesale customers.)
Note: I was not paid or perked for this post or for hosting this giveaway. These are NOT affiliate links. I  contacted Hugger Mugger and set this up because I am really, truly all about making yoga (and props) more accessible to you!