I've said it before, I'll say it again – if you practice only one yoga pose each day, it should be Savasana (relaxation)! There are many modalities for exercise around us. Plenty of fitness programs incorporate stretching. You can even find several programs that focus on improving body alignment.
But, where else in your world do you learn and practice deep relaxation? I'm not talking about the kind of relaxation where you snuggle up with a good book, hunker down with a big bowl of popcorn and a movie or even sleep.
I'm talking about the formal practice of doing nothing at all. I'm talking about a rest that you remain awake to observe. I'm talking about making the choice to abide in stillness, and then watching what happens.
This type of relaxation is a learned skill (one I'm already teaching my two-year old as pictured above). It doesn't always come easily for me. There are days when I have to reaffirm my choice to relax 40 – 60 times during my practice.
People often tell me that Savasana stresses them out. They say they feel agitated when they are laying there. With love and empathy I say, relaxation itself doesn't agitate you – it reveals the anxiety and tension that you are normally able to ignore.
Thankfully, if you stick with it, Savasana is actually a wonderful salve for agitation! When you start to feel tense, take a deep breath and bring your awareness to your body. Start at the top of your head and slowly relax each muscle as you move down to your toes.
The Set-Up
Set yourself up for success by using props that encourage your body to surrender to relaxation. Here is my favorite Savasana set-up.
Here's what you need:
Yoga mat
1 bolster
1 eye bag
5 blankets in the traditional fold (Judith Lasater calls this "Tadasana" for the blanket) as pictured here:
Slightly unfold one of the blankets, leaving it stair-stacked, as pictured below. Place it at the top of your mat.
Roll one folded blanket on its long edge, as pictured below. Place it at the bottom of your mat.
Fold two blankets nearly in half, leaving them stair-stacked, as pictured below. Place one on each side of your mat.
Place the last blanket, the bolster and the eye bag beside your mat.
Lay down so the bottom edge of the top blanket comes under your shoulders. Roll the sides of the top layer under to support your head.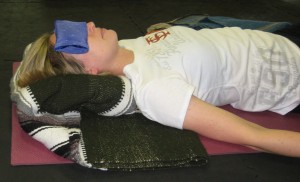 Slide the bolster under your knees. The long blanket roll should support the back of the ankle, so the heels do not touch the floor.
Tuck your hands into the blankets at your sides. The wrists should be supported by the bottom layer. Tuck the hands into the top layer. (I folded over the top layer of blanket in this picture to show the hand placement.)
Cover up with the extra blanket. Place the eye bag over your eyes.
Then, choose to surrender. Surrender all holding, all tension, all doing. Choose to surrender over and over again for the next 20 minutes. Enjoy!
P.S. This post is part of a series on the basics of many of the most common poses. Look here for additional posts in this series.
P.P.S. My husband repalced his afternoon coffee break with a Savasana break instead. See his playful approach to the practice here.
Can you give yourself permission to choose rest? How wonderful is it to do nothing?! Can you imagine what the world would look like if everyone did nothing for 20 minutes a day?